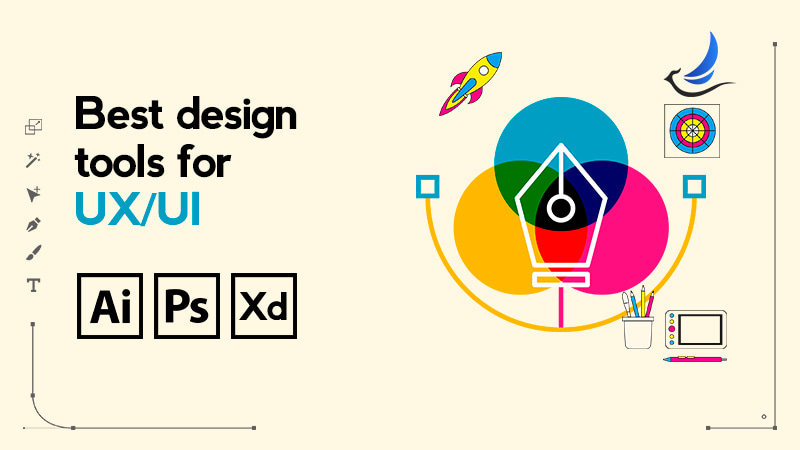 2021-09-05
UI/UX design tools give designers everything they need to develop accurate wireframes, hi-fi mockups and prototypes, and render MVPs. They represent the basic design elements that communicate its functionality. UX design tools focus on the user and their perception of the content. These tools can help structure the information architecture as well as how a person will navigate through the experience. Since it is more conceptual, UX tools help a designer paint a broader picture of how content and organization will affect perception.
Let see some UI/UX tools that you may find handy for the design process.
Adobe Photoshop
Adobe Photoshop is a bitmap graphics editor developed and published by Adobe Inc. For Windows and MacOS. It provides many editing functions for bitmap (pixel) images as well as vector graphics. It uses a layer-based editing system that allows you to create and edit images with multiple overlays that support transparency.
Adobe Photoshop is very helpfull for Brochure & Flyers Design, Packaging Designs, etc.
Adobe Illustrator
Adobe Illustrator is a vector graphics editing and design program developed and sold by Adobe Inc. This is useful for creating logos, illustrations, illustrations, and other resolution-independent accurate images. Adobe Illustrator helps you to create Logos Design, Magazine Designs, etc.
Adobe XD
Adobe XD is a vector design tool specifically for user interface (UX) design. It was released in 2016 with UX-specific features not available to designers using Photoshop or Illustrator. You can use it as a desktop application on your computer or as a cloud application on mobile devices. 
Figma
Figma is a cloud-based vector graphics and illustration tool used for various graphic design piece of work. Since its release in 2016, it has become popular with UI designers because it works directly in the browser. You can access your projects from any computer and platform without needing to install software or purchase additional licenses.
Sketch
Sketch is designed for digital design, so it's not burdened with any print design features. Work on your projects in native macOS apps, then collaborate on the web using the synced web app.
Balsamiq
Balsamiq Wireframe is a small graphical tool for describing user interfaces for websites and web/desktop/mobile applications. Balsamiq provides a handy tool that lets you get started and focus on textures rather than colors and icons.
Invision
InVision is a prototyping tool created by designers for designers. It allows you to quickly and easily create interactive layouts for your projects. When you're ready, you can share these layouts with your team or your clients.
In short, If you are looking for UI/UX professionals then hire professionals from an offshore Graphic Design company may be a good option. BlueJay Web Solutions offer quality UI/UX professionals with low hourly rates.